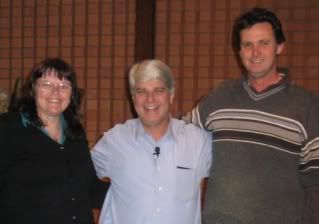 Over the past week, Dr Jay Wile, author of the 'Exploring Creation' series, has been touring around Australia, and on Monday, we were fortunate enough to meet him, and to hear a couple of his talks.
He is an amazing, inspiring speaker, and I'm feeling quite enthused and encouraged regarding our own homeschooling journey.
He spoke on a variety of topics, from primary and high school science, to creation vs evolution, and a wonderful talk about the marvels of creation.
And the best news is that he's currently writing a primary science curriculum! We look foward to seeing it in print.
Thanks to all the organisers who dedicated much of their time and energy into organising the tour, you all did a fantastic job.
God bless,
Linda
.